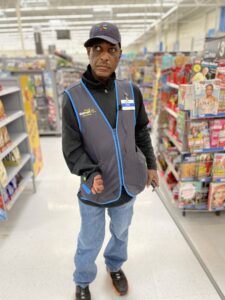 Eric has worked with Job One for several years in Recycling, then Packaging & Assembly. Recently, Eric expressed interest in community employment. With the support of a Job One Careers Employment Specialist, Eric secured a position at Walmart, where he impressed the hiring managers with his experience. Together, Eric, his Employment Specialist and the Walmart team carved out a job to fit his abilities. Eric is ecstatic about being offered this unique position. Without the combined services received from Job One, Eric may not have this wonderful opportunity.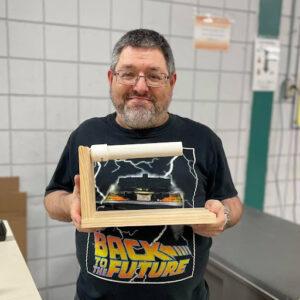 Jason has been part of the Job One family for 25 years, receiving residential services through the Center for Developmentally Disabled. Over the years, Jason's skills and productivity continue to improve and he has demonstrated that he is very innovative. As a skilled maker, he is always coming up with inventions that are fun, useful, and sometimes…outrageous.  To assist him with a project at work, Jason made two stands for one of his jobs. Now, he is more efficient, allowing the rolls of stickers he works on to slide effortlessly on this mount. Jason is very happy at Job One and is proud that staff listen to his ideas and help make them a reality.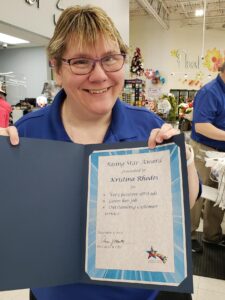 Kristina is a former Global Messenger for Special Olympics and has traveled the world, meeting Muhammad Ali, Barack Obama, The Pope and many others while spreading awareness for people with disabilities. More recently, Kristina struggled with extreme social anxiety which became a barrier to her employment success. With support from her Job One employment specialist and CBDS, Kristina has been able to work through her challenges and secure a job as a grocery sacker with Cosentino's. She is very proud of her job and the fact that she has maintained it independently for over a year. One of Kristina's goals is to write a book about her life.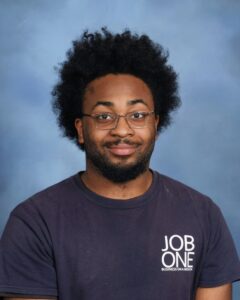 Marcell started as Job One Careers client. He applied for Job One's AbilityOne contract at Marines Technology Center and got the job! He has performed so well, he was promoted to Site Lead and his supervisor has so many wonderful things to say about him. He now works with potential new hires on assessments and assists with interviews. He is proud of his growth within Job One.