The challenging year of 2020 ended on a positive note – coronavirus vaccines are being administered across the United States. But as the country embraces winter, it is important to remember that many continue to struggle. 
It is OK for things not to feel OK. 
The holidays are not just a date on the calendar.  There is a lot of emotional connection, a lot of memories, a lot of evaluation of where you are in your life. One of the things you can do to practice self-care is recognize that things are not easy right now. 
You have got to allow yourself grace and realize that this is a challenging time. We all have this idea that we should be happy and thankful. But sometimes there is a disconnect with that message and how a person actually feels.
Many people are struggling with guilt about missing family gatherings or are struggling with financial uncertainty. It is natural that these feelings would affect people's mental health. 
That is where physical health can play a part
Make sure you're taking the time to take care of yourself, whether that's relaxation techniques, your diet or some time disconnecting from technology. 
Find time for a short check-in with you loved ones, just to make space for a discussion about any struggles.  
Check in with other caregivers, schedule a regular time to have a debrief or venting session.  
Another tip is to manage expectations around the new year. 2021 could be off to an uncertain start, so even small resolutions are meaningful. 
For example, instead of resolving to lose weight, just try to go for a 20-minute walk each day, which will help your physical and mental health.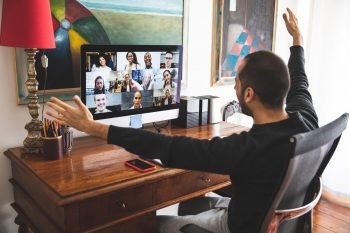 Practicing gratitude is important for mental health, too.
Try keeping a journal or memory log to document your experiences and interactions.  If you are isolated from your family but do video calls, take a quick picture of that screen.
Start documenting in a different way so you can look back on this as an extraordinary time and see how you creatively adapted to the challenge.