Working together on a mission
Since 1967, Job One has led efforts in the Kansas City region to make a difference for people with disabilities in our community. It is an unfortunate truth that people living with developmental and/or physical disabilities are often passed over for jobs for which they are qualified. In fact, the unemployment rate among individuals with disabilities is 12.6%, nearly double the 7.6% unemployment rate among people without disabilities, according to the U.S. Bureau of Labor Statistics.
At Job One, we are on a mission to make connections, create employment opportunities and provide resources for adults with developmental and/or physical disabilities in our area. As a social enterprise, Job One operates revenue-generating business units that help fund our mission, but we also rely heavily on community donations to provide critical support for the individuals we serve. Donors to Job One's "One Fund" are truly making a life-changing impact for individuals right here in our community.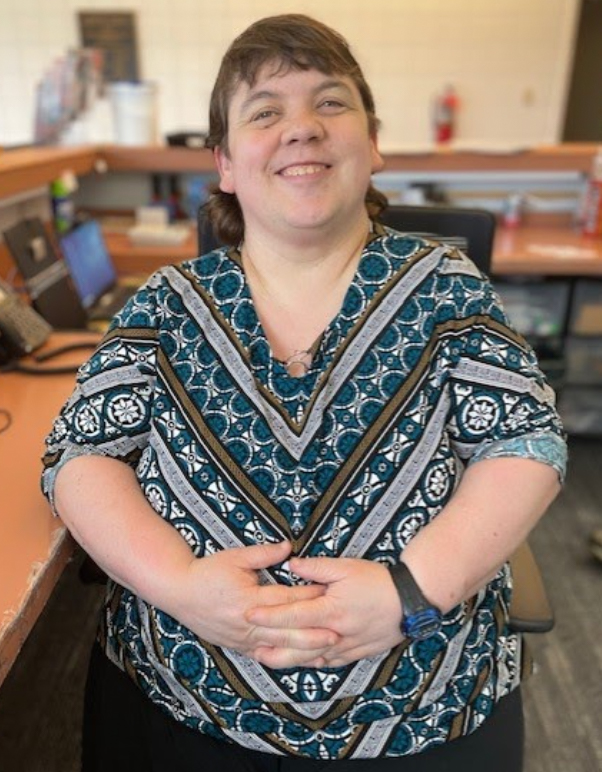 Natalie is one example of how we are making a difference. Natalie joined the Job One family November 9, 1992 as an employee in the Production & Assembly facility. Supervisors quickly recognized her talents and in 1993, she was asked to work on a special one-year project in the mailroom at UMB Bank. In 1994 she transitioned to the GSA mailroom and was a member of Job One's AbilityOne program. Between 1995 – 2013, Natalie enjoyed long stretches of work rotating between GSA, Job One's P&A, and the bank. This allowed her to learn new skills and to enhance her natural talents.
In 2013, Natalie assumed the role of receptionist at Shred One KC, and in 2014 she accepted the position of receptionist at Job One's Production & Assembly facility in Independence, Missouri. She is about to celebrate her 7th year as the receptionist at Job One.
Natalie plays a vital role at Job One, from being the first face our guests and visitors see when arriving, to answering phones, and performing assorted administrative tasks. Supervisors consistently compliment her attitude, willingness to help, and how she is always ready with a smile. When asked her favorite thing about Job One, Natalie replied, "The people! The work! I just really enjoy being here."
Natalie's skills and talents shine at Job One. We see her abilities, rather than her disabilities. This is also true for the hundreds of other individuals we serve daily through our workshop, community-based employment and community-based day services. Donor support of our One Fund make all this work possible.
Click here to learn more about how you can make an impact by supporting Job One's One Fund.