Mary's Story of Success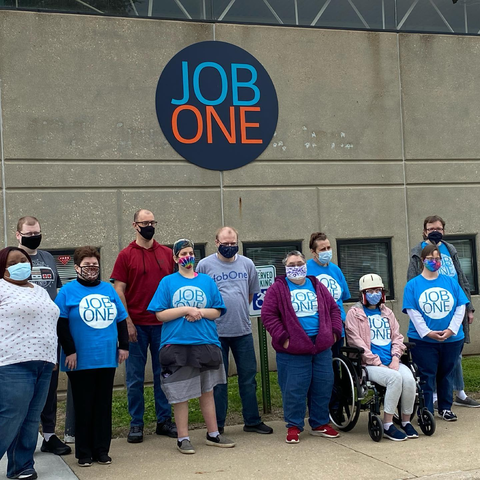 One size does not fit all when it comes to services for people with disabilities. Like any of us, each individual served by Job One has their personal goals and aspirations, then there are the challenges presented as a result of their unique physical and/or developmental disabilities. For over 50 years, Job One has been working to deliver person-centered employment solutions for the individuals we serve.
For some, a sheltered workshop is the preferred solution. Our Job One Packaging & Assembly facility provides a safe space where people with disabilities can work alongside staff trained to respond to unique needs. Others may desire to work alongside peers in the community. Job One Careers provides services to connect these individuals with employers in the community. These job opportunities help our Job One Careers participants reach new levels of independence within an inclusive community environment.
While sheltered and community employment are great options for many, there are others who need something different to align with their personal goals and abilities. Always on the forefront of progressive solutions to serve our community, Job One launched Community-Based Day Services (CBDS) in 2021 to help fill the gaps to broaden our scope of services for people with disabilities. CBDS is a highly personalized program that serves individuals who may need more one-on-one guidance. Clients participate in meaningful and purposeful activities and skills training based on their individual preferences as identified in their person-centered plan. Job One's CBDS fills the continuum of employment to provide better access to community integration and, ultimately, improved job opportunities. We're seeing great results with participants. Below is the story of "Mary" (we've changed her name to ensure her privacy).
Mary was previously employed through Job One's sheltered workshop. When COVID forced Job One to close the recycling facility, she no longer had a job. When beginning services with CBDS, Mary's family members were very concerned about her being safe while in the community and socialization. When discussing Mary's interests, skills and goals, there were concerns about her ability to safely achieve those goals and be successful.
For example, Mary had a strong desire to learn how to swim. With the support of Job One's CBDS, Mary was able to become a member at her local community center and she chose to join an exercise swim class. Job One CBDS staff soon learned that Mary loves swimming and is very good at it! This swim class has many adults within Mary's age range. The Job One team also discovered Mary is a social butterfly! She now participates in the swim exercise class weekly and has made many new friends.
After participating with Job One's CBDS, Mary began working with the Job One Careers Employment Services team, leading to Mary securing a job in the community. CBDS gave Mary the chance to step outside of her home environment and learn about who she is, what she loves and how talented she truly is. Many adults with disabilities lack the opportunity to branch out and learn who they are independently. We're proud of Mary's success and the new levels of independence she has been able to achieve.
To learn more about Job One's Community-Based Day Services, click here. For information on all Job One services, please visit JobOneKC.org. If you would like to show your support by making a donation, visit www.JobOneKC.org/donate.